Strawberry Kale Salad w/ Golden Jewel Blend®
Ready in 20 Minutes | For the best experience, please skim through the steps before you start cooking.
This recipe comes from our friends at InHarvest, and we're pleased to feature their Golden Jewel Blend, a tasty combination of Israeli couscous, tri-colored orzo pasta, split baby garbanzo beans and red quinoa. Enjoy!
Unpack Your Kit Ingredients
MAIN:
organic vegetable broth (Clearly Organic)
golden jewel blend (InHarvest)
local chopped kale (Bates County Produce)
chopped strawberries
local sliced radishes (Stanberry Community Farms)
HFCo champagne poppy seed dressing
local sheep's milk cheese (Green Dirt Farm)
Grab Your Cookware and Staples
medium saucepan with lid
large baking sheet
large bowl
Step 1: Prepare the Golden Jewel Blend
BOIL the vegetable broth in a medium saucepan over high heat.
STIR in the golden jewel blend and reduce heat to low.
COVER and simmer for 10 minutes.
REMOVE the blend from heat and spread it out on a baking sheet to cool for 5 minutes.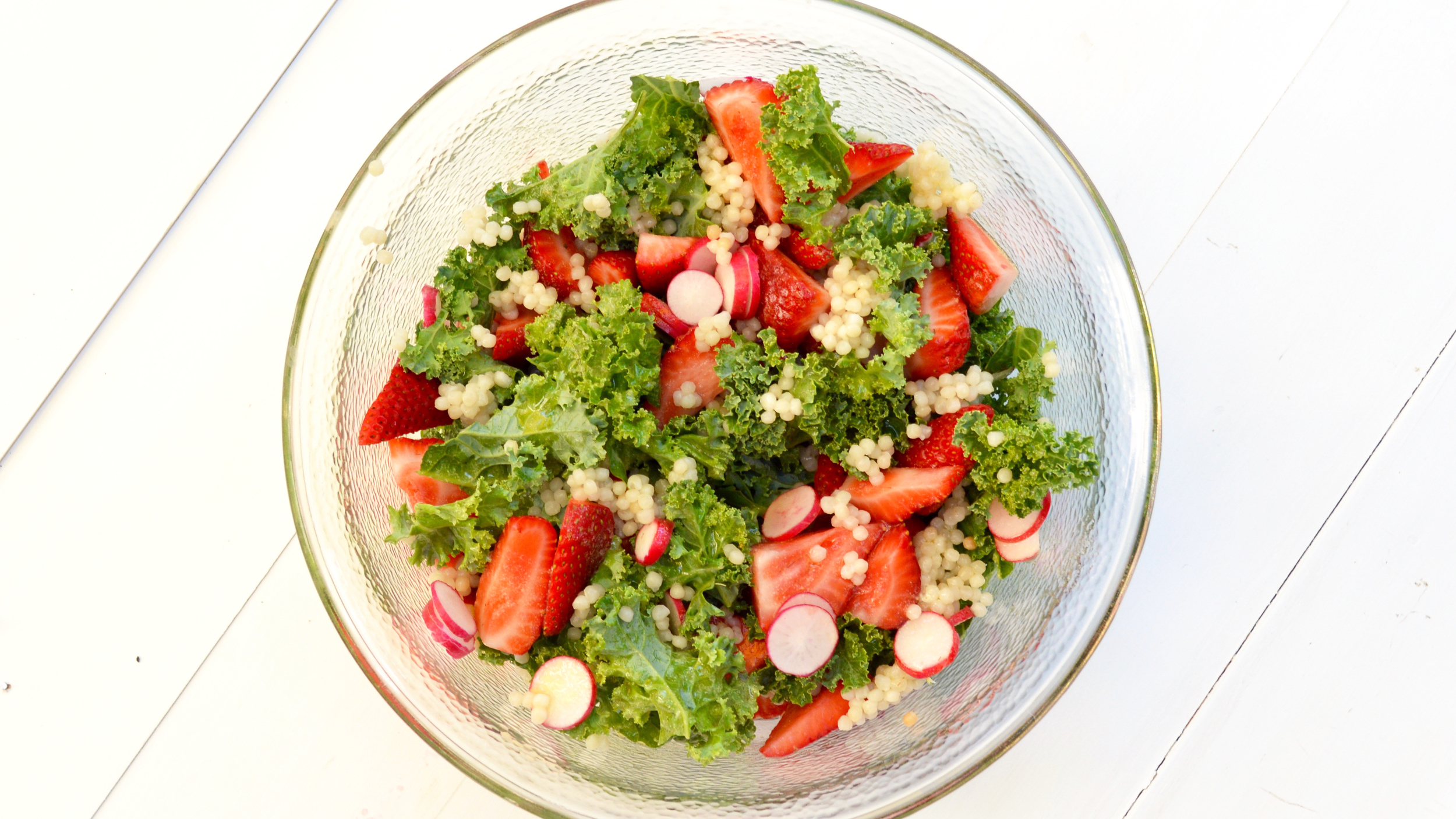 COMBINE the chopped kale, chopped strawberries, sliced radishes and golden jewel blend in a large bowl.
TOSS with the champagne poppy seed dressing.
TRANSFER the salad to serving plates or bowls.
SPRINKLE with sheep's milk cheese and serve.
★TIP: Please recycle your dinner kit packaging.
Good Food for Real People
At Happy Food Co., we source our ingredients from the finest local and regional suppliers so you can feel great about what you're putting on the table.
We know that eating well is important to you, and we're delighted to be part of your evening dinner. Hope you enjoy this meal as much as we loved designing it for you.
— Chef K
Show and Tell
Post your meal pics on Twitter and Instagram using #getsomehappy.
Or share your feedback directly with us.